One pint of blood can save three lives. In a group of 10 people who donate blood, 30 lives are saved. Imagine how many more lives are saved if there were 50 or 100 or 200 people donate. One truth that people do not realize is that blood is not manufactured, it  comes from generous donors. Though not everyone can donate blood, there are still eligible donors who are fit to give blood- the problem is just a small percentage of eligible people are donating. In the United States, about 38% of its population are eligible to donate blood, but only 5% of them across the country actually do.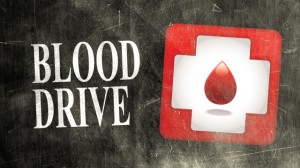 To keep blood stock supply on a safe level, the American Red Cross, other hospitals and blood banks are actively campaigning for blood drives across the country to continually meet the growing demand of blood supply. The good news is, even ordinary people like you can help these organizations spread the news about blood donation. You can organize blood drives in your place, encourage locals to donate blood and make a change.
Here's how:
1. Partner with a local blood bank. You can't organize a blood drive without any blood bank to give the blood bags to. Wherever you are, contact and form partnership with American Red Cross or the nearest blood bank in your place and tell them that you want to organize a blood drive in your community. They will be your source of safety gear, equipment, forms and other things needed to collect and document extracted blood.
2. Choose a place. Look for a location where you can hold the blood drive. It is better if it's a busy area where people converge; like the school gym, community center, church hall, fire station, at your office, apartment building, etc. If blood drives are held in busy areas, chances are, passersby can easily see your activity and they might want to donate blood on the spot, too.
3. Decide for a date and time. If you want to have a successful blood drive, give yourself enough time to prepare for this activity. It is impossible to think of a blood drive today and want to have it done by the next week – you won't have enough donors for that. Make sure that there are available nurses and equipment on your chosen date. It would be best if you hold it on a holiday or any special events in your place so that more people would be available on that day.
4. Recruit helping hands. Since you can't organize a blood drive all by yourself, you're going to need some help from people who are willing to get involved in the event. Ask your friends, neighbors or work mates to help you and assign them in specific tasks such as publicity, providing snacks and setting up the place.
5. Look for blood donors. Make sure you recruit donors who meet the requirements to be a whole blood donor. They must be 17 to 65 years old, must weigh at least 50kg and must be in good health. You can invite your work mates, church mates, classmate and neighbors. You can set up booths in schools and parks to inform people about the blood drive event and ask them to donate blood. Having an idea of how many people to expect will help you prepare properly.
6. Follow-up donors before the blood drive. Many people sign up for blood donation but fail to show up on the day itself because they either got busy or they simply forgot. To avoid this, send a text message or an email a day or two before the blood drive to remind them. A study conducted by the students of the University of Arizona shows that sending text messages or email reminders to people who have volunteered to donate blood increases donor turnout by 11%.
7. Promote the blood drive. Spread the word about your blood drive online and offline. Post posters about the blood drive in public places but remember to ask permission from the building's manager. Distribute flyers whenever you can. Have word-of-mouth advertising through your friends. Ask local radio stations to make a public service announcement about your blood drive. Actively update people about the blood drive online using social media networks like Twitter and Facebook. A lot of blood donation and requests for blood donor activities have been successful because these two sites are very effective in spreading information – use them wisely.
8. Provide directions and instructions. If you have blood donor volunteers who are not familiar where your blood drive is, posting arrows pointing to the location would be helpful. When blood donor volunteers arrive at the place, make sure you greet them warmly and explain instructions carefully. Post also instructions in public halls or bulletin boards so that donors can read what to do in case they forgot what you told them.
9. Be friendly and accommodating during the donation process. Have an interview desk set up and have them fill out a form for their medical history. Donors may get cold feet and have second thoughts, make sure to help them feel at ease. Have a person who can usher people to meet with the nurse who will get your vital signs and take a blood sample. Assure everyone that the blood extraction is performed by professionals who are trained to perform the process- a person could get antsy if they are not assured that . The staff must be friendly and accommodating to give donors a relaxed environment.
10. Provide entertainment/foods/incentives during and after the process. The blood donation process only takes less than an hour, but people will spend an hour in at the event because of the testing for eligibility before the donation and rest after donation. To keep the whole process fun, you can have donors watching movies while giving blood. A sitting area should also be provided and make sure to give them snacks and drinks!
Doing a life-saving act is memorable and gives donors 'bragging rights' for heroes. A simple tokens of appreciation like T-shirts, bar pins, gift cards that say "I saved a life today" or "Give Blood. Give Life" can encourage people to donate again. This is one way to thank them for their act of heroism.
Blood transfusion is important in saving lives and improving health; it would be unfortunate that patients who gravely need transfusion do not have timely access to safe blood. The sad news is, the world is experiencing blood shortages because of the increased number of people who need blood in complex operations such as chemotherapy, organ transplants and heart surgeries. These operations need large amounts of blood and blood products.
We cannot just let helpless people die because of blood shortage. That is why there is a great need to initiate and conduct blood drives to keep the supply coming.
Whoever you are – a medical personnel, professional or a student – you can help create a change in the world. You can hold blood drives in your place and save lives.
The world will celebrate the World Blood Donor Day (WBDD) every 14th of June. It's a global campaign and there are over seventy countries around the world that will give honor to the volunteer donors who choose to help other people by donating blood.
We invite you to be a part of this noble act! You do not need to die to become a hero.
Giving blood is simply enough.
References:
http://www.volunteerguide.org/hours/service-projects/blood-drive
http://www.dosomething.org/actnow/actionguide/organize-a-blood-drive
http://www.ehow.com/how_2038854_organize-blood-drive.html
Related posts: