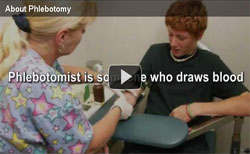 Our world today is filled with economic uncertainties. Stable jobs become scarce. Hundreds of fresh graduates remain jobless and "more than 4 million homes have been lost to foreclosure over the past five years (CNN Money, January 2012)."
Thank God, the health care industry has opened a new door of opportunity. This opportunity focuses on phlebotomy. Does this ring a bell?
Phlebotomy is no longer a new field of expertise. The act of drawing blood was already practiced by the ancient Greeks, Romans and Egyptians long before it was also introduced in US in 18th century.
Modern phlebotomy becomes a growing career these days because of two major reasons. One is the need of laboratory workers. Hospitals, big or small, and blood donation centers like American Red Cross are constantly looking for more health care professionals who can assist in collecting, analyzing and storing blood samples. Either you're a graduate of a four-year or two-year-course, phlebotomy might be your calling. It offers short training program that can last for four to eight months. You'll immediately get certification after passing the exam.
Becoming a phlebotomist is a stable career. Anyone with steady hands and a mind of a doctor can surely be successful at it. To achieve its peak of success, you should clearly understand what the field of phlebotomy entails.
Scope of Phlebotomy
Phlebotomy is a medical field and it has two portions. The theoretical portion focuses on the specifics. You will learn why you are drawing blood and what are its step-by-step procedure. Mastering its safety measures, risk exposures and legal issues is also mandatory.
After the theories, you are put in real life situations. You need to know how to properly deal with all types of patients (young, old, male, female, cooperative, non-cooperative, etc) and how to stay alert in all types of emergencies (people with poor veins, your partner in shift is absent, accidents in laboratories, etc). Creating a harmonious relationship with your superiors and co-workers is also important.
Duties of Phlebotomist
The competition in any health care job is fierce. Only the excellent, the competent and those with certification are hired. A phlebotomist is no exception. Excellence in phlebotomy can never be achieved if you're not well-aware of your duties and obligations. Apart from collecting specimen, mostly blood (also urine, feces and other bodily fluids), you can be assigned to monitor patient's basic needs. You should direct your patient in what to do next (handing them specimen cups, assisting them to comfort rooms and answering their question) during physical examination.
How to Research for Schools
1) Look for reliable Find-A-Phlebotomy-School directory online. The online directory allows you to explore various schools in the country.
Take time figuring out to which school you're enrolling to. Choose the one that fits your budget, the one that is closest to your home and the quality of education is in its highest standards. Phlebotomy.com offers an online directory. The link should be a big help to you.
2) When you need more assistance, it's also better to contact the laboratory supervisor of your local community. He or she may give you a lot of options to which school you should be enrolling and what school has the highest standard education.
3) These days, there are websites that offer online training programs. As you visit these sites, it's a need to check their policy and payment system immediately. Never forget to also read testimonials about their services before enrolling to the program. Most importantly, make sure the online program is accredited by higher institutions such as American Medical Technologists, National Phlebotomy Association, Association for Phlebotomy Technicians.
Related posts: