What is Carter BloodCare?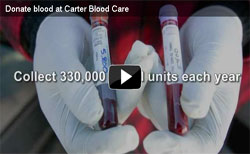 Carter BloodCare is a non-profit organization and the largest blood bank in Texas. The bank started in 1998 when BloodCare in Dallas decided to merge with Carter Blood Center in Fort Worth. In April 2007, the merged bank then announced an official merger with Tyler Stewart Regional Blood Center.
Carter Bloodcare's main headquarters is located at Bedford and it's just few blocks away from DFW Airport. All its facilities are up-to-date and is accredited by American Association of Blood banks (AABB). Its testing laboratory is first-rate. Its equipped with modern and expensive equipment, which is operated by Blood Systems Laboratories (BSL).
The board of directors of Carter BloodCare is typically composed of local (medical professionals and hospital administrators), business and civic leaders. They operate together just to meet the blood supply needs of the community. To them, providing more than 300,000 units of blood components each year is not an impossible goal as long as potential donors remain to be generous.
How does it operate?
As the largest blood bank in the state, Carter BloodCare plays as the major supplier of blood in 300 different health care facilities such as transplant centers, children's hospitals, central trauma centers and major cancer centers. The bank makes sure they register more than a thousand donors every day to meet the needs of the patients.
Carter BloodCare has 26 donor centers throughout North Central and East Texas. These banks offer various donation opportunities to donors. They can also accept them as volunteers. Volunteers are in need to manage an average of 27 blood donation drives from Monday to Sunday.
Carter BloodCare also supports the campaign that gives proper education to professionals who want to be a part of transfusion medicines.
To search for Carter BloodCare in the country, go to BloodBanker
Related posts: