So I want to take a look at the overall distribution of blood types across the world and US.
Who Has Which Blood Type?
Blood Types Percentage of US Population
O+ (38.4%)
O- (7.7%)
A+ (32.3%)
A- (6.5%)
B+ 9.4%
B- 1.7%
AB+ 3.2%
AB- 0.7%
So the way that a blood donation work is that a certain "Class" or "Type" of blood are known as universals and can be used for blood transfusions for complimentary types.
Here is how it is broken down: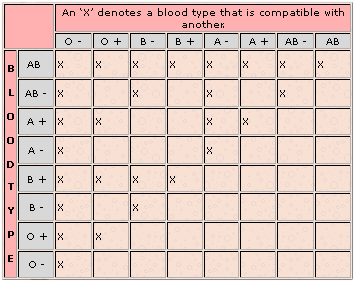 Here is the worldwide distribution of blood types. This is very interesting because it deals with the evolution of man and how race places a part in different blood types.
For blood type family "A"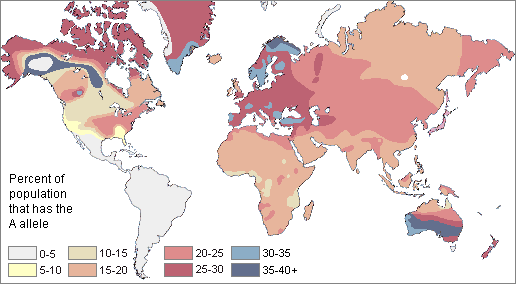 Blood type family "B"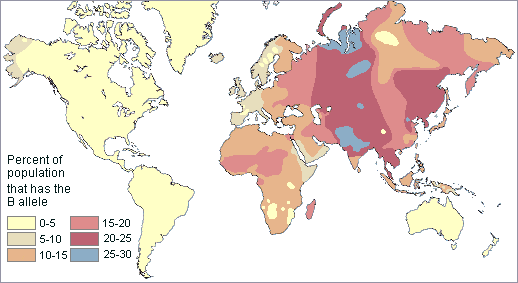 Blood type family "O"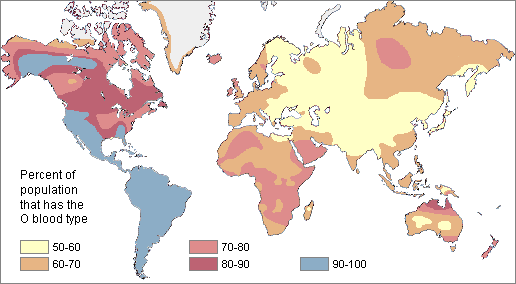 What is a double red cell whole blood donation?
Some recent advances in blood donation technology make it possible to give more blood than ever. This technique is called "Double Red Cell Blood Donation" or "Double Whole Blood Donation".
Basically here's how it works.
Special technology will be available at select community blood drives, not all donation centers have this technology so inquire within first.
Blood is collected from a donor's arm, just as it is in a standard whole blood donation.
The difference with a double red cell donation is that a machine separates the red blood cells from other blood components , and returns the remaining components back to the donor. This makes it like a plasma blood donation.
By doing this, the machine is able to double the amount of red cells it would normally collect in a standard blood donation.
What is the main advantage of this new system?
While whole blood donors are eligible and encouraged to give every 56 days, those who donate using this new technology will be eligible every 112 days – ideal for those donors who have demanding professional and personal schedules, but who are also committed to continually supporting the needs of patients in our local hospitals. This means that double red cell donors may give the same amount of red cells three times per year, as they would if they were to donate whole blood six times per year.
Other donor benefits include the use of a smaller needle, as well as the return of plasma to the donor's bloodstream, which will ultimately send donors away feeling more hydrated than when they came in for their appointment.
Are there any risks to this procedure?
Not really any risks different from a standard blood donation, but it is important to note that the actual donation time is about 35 minutes, as opposed to 20 minutes for a standard whole blood donation. Fewer donors will be able to donate double red cells, however, and therefore this donation may actually save you time.
UPDATE: Eligibility requirements are different for every kind of donation, check it out here.
What is Apheresis?
Apheresis, What does this mean?
Apheresis (ay-fur-ee-sis) is an automated blood collection technology that allows a donor to give specific blood components, such as platelets. During the apheresis procedure, all but the needed blood components are returned to the donor.
This process allows more of a particular part of the blood to be collected than could be separated from a unit of Whole Blood. Apheresis is also performed to collect Plasma (liquid part of the blood) and Granulocytes (White Blood Cells).
The Apheresis donation procedure takes longer than Whole Blood donation. A Whole Blood donation takes about 10-20 minutes to collect the blood, while an apheresis donation may take about one to two hours.
How the Apheresis program works?
Apheresis technology allows the donation center staff to tailor your blood donation to local demand. When customizing your donation, they consider factors like your blood type and how many times per year you donate. Donors can give a unit of platelets, red blood cells, and/or plasma through the Apheresis Program.
Automating the blood donation process
During your donation, blood is drawn and channeled through a sterile, single use tubing set into an automated system. Using a centrifuge built into the automated system, the most needed component is collected and then the remaining blood components are returned back to you. It takes between 70 minutes and 2 hours to complete this process. You may watch television or videotapes, listen to music, surf the Internet on our wireless Internet connection, or simply sit back and relax while helping to save a life.
How is Stem Cell Apheresis Done?
During apheresis, the patient or donor is connected to the apheresis machine. In the case of a patient donating their own stem cells, this process is performed using a central venous catheter, which has two Lumens (two tubes within one catheter; see the Linecare pamphlet). Occasionally, the veins of a donor are so difficult to access that a temporary pheresis catheter in the chest or the groin becomes necessary.
Donation by Apheresis
The process of apheresis has become essential in providing blood components for therapy. A volunteer donor will undergo apheresis to supply specific components. The process takes a couple of hours. Examples include:
Plateletpheresis: this is the most common means for supplying HLA matched platelets to patients who have become HLA sensitized and require platelets from a single donor whose HLA type matches theirs.
Plasmapheresis: the plasma can be removed to supply blood components such as clotting factors. Donors can give plasma via this mechanism more often than they can donate whole blood.
Leukapheresis: the leukocytes (specifically the granulocytes) can be harvested from a donor to supply granulocytes to help fight infection in patients such as neonates.
What Are Possible Risks/Complications?
The actual apheresis process is painless. Patients may experience some lightheadedness, numbness or tingling of the nose, lips, or fingers, but these symptoms are short-lived and easily treatable. To collect sufficient stem cells, the apheresis process must be performed for at least two consecutive days, although five or more procedures may be necessary. Each apheresis procedure takes from three to five hours. Possible complications include bleeding at the needle sites, clotting in blood vessels used for collection (thrombosis), or surgical complications if a temporary pheresis catheter needs to be inserted. Since the procedure involves penetrating the skin, and open access to blood vessels, infection is always a risk.
Remember that 1 donation saves 3 lives!
What is plasmapheresis?
In the 1970s, with the support of the Muscular Dystrophy Association, researchers developed a new approach to the treatment of autoimmune conditions. Instead of trying to change the immune system with medication alone, they thought that it might be possible to mechanically remove autoantibodies from the bloodstream in a process similar to that used in an "artificial kidney," or dialysis, treatment. The procedure became known as plasmapheresis, meaning plasma separation. It's also known as plasma exchange.
What's involved in a plasmapheresis treatment?
A plasmapheresis treatment takes several hours and can be done on an outpatient basis. It can be uncomfortable but is normally not painful. The number of treatments needed varies greatly depending on the particular disease and the person's general condition. An average course of plasma exchanges is six to 10 treatments over two to 10 weeks. In some centers, treatments are performed once a week, while in others, more than one weekly treatment is done.
Who donates plasma?
Anyone at least 18 years of age and who weighs at least 110 pounds can donate plasma. All individuals who donate plasma must pass a brief medical examination, extensive medical history screening, and testing for diseases such as HIV and hepatitis.
Where are plasmapheresis treatments offered?
Plasmapheresis is performed at many major medical centers across the country.
Why should I have plasmapheresis?
Plasmapheresis may be recommended for a few reasons:
To stabilize a rapid decrease in muscle strength.
To reduce moderate to severe muscle weakness before surgery.
To add to present treatment if current forms of therapy are providing insufficient control of the disease.
How long does plasma exchange take?
The time spent on the machine may be one to three hours. This depends upon the patient's weight, height and the amount of plasma to be exchanged.
How often can plasma be donated?
The body replaces the donated plasma within 24 to 48 hours if the donor keeps a healthy diet with an adequate amount of fluids and proteins. A donor may donate two times every seven days, but not more than every other day.
Can I get AIDS from donating plasma?
NO. Plasma donations are made in a highly controlled, aseptic environment by professionally trained staff. All plasma collection equipment is sterilized and equipment that comes in contact with the donor's blood or plasma is used only once, eliminating the possibility of transmitting any viral infection.
What compensation do plasma donors receive?
To guarantee a safe and adequate supply of donors, the industry developed a system of donor compensation which recognizes the substantial commitment of personal time and effort required from donors. Current manufacturing supply requirements often demand that the donors visit a collection center up to twice per week for one and a half hours each visit.
What are the risks associated with a plasma donation?
Reinfusion (replacement) with human plasma may cause anaphylaxis, a life threatening allergic reaction. All procedures may cause a mild allergic reaction, leading to fever, chills, and rash. Bacterial infection is a risk, especially when a central venous catheter is used. Reaction to the citrate anticoagulant used may cause cramps and numbness, though these usually resolve on their own. Patients with impaired kidney function may require drug treatment for the effects of citrate metabolism.
Plasma contains clotting agents, chemicals that allow the blood to coagulate into a solid clot. Plasma exchange removes these. Bleeding complications are rare following plasmapheresis, but may require replacement of clotting factors.
What products are made from plasma and what are their uses?
Over a million hospital patients use plasma therapies each year. The listed products represent only a portion of the products manufactured from plasma.
Immune Globulin – The major globulin product is Intravenous Immune Globulin (IVIG), which is used to treat individuals exposed to infectious disease when no vaccine is available. Immune Globulin products are also used in the treatment of hepatitis, measles, rabies, rubella, tetanus, smallpox and chickenpox. In addition, several hundred infant deaths are prevented annually through the use of Rh Immune Globulin prepared from plasma.
Albumin – 120,000 burn victims per year rely on the use of Albumin and 200,000 heart surgery patients receive Albumin for fluid replacement. Generally, Albumin is used as a body fluid replacement. Albumin is also often used as an ingredient in the manufacture of many biotechnology products.
AHF – Antihemophilic Factor is used in the treatment of the bleeding disorder. There are approximately 420,000 individuals with hemophilia worldwide.
Automated Blood Donation, the noob explaination.
What is an automated blood donation?
Your blood is drawn from one arm through a sterile single use tubing set to an automated system. This separates and collects the most needed components of your blood and then safely returns the remaining blood components back to you.
Okay, so what's the big deal?
The automated blood donations are 6 times more efficient than a traditional whole blood donation! That means that the machines that extract the blood can do a way better job and your time and blood are worth more to the banks.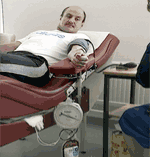 The most needed components of your blood are:
Platelets:
These bad boys are in charge of blood clotting. Doctors need these for open heart surgery, to support cancer therapy, treatment of blood disorders, and for organ transplants. Platelets must also be transfused (used in one of the above examples) in 5 days. It has a short shelf life, so the supply must always be replenished. A single donor can donate platelets up to 24 times per year. Any more than that amount is generally not recommended.
Red Blood Cells:
As you know from medical school (or maybe grades school
that red blood cells carry oxygen to all parts of the body. Typically they are most needed after a loss of blood through trauma, surgery or anemia. These too have a shelf life of 5 days, so the need for donors is constant. This donation can be made about every 8-16 weeks, depending on the donation type.
Plasma:
This is the liquid part of the blood, and it contains critical clotting factors. Plasma generally treats patients with certain bleeding disorders and is used for plasma exchanges. Plasma can be given up to twice a week or even every 4 weeks for some programs. Check with a local bank for their specific plasma donation program.
How much blood does one of these medical procedures take?
This is where the data gets real interesting. Check this out:
So every time you donate blood you would get:
1 red blood cell unit
1 unit of platelet
1 unit of plasma
Follow me? So here is how much each takes:
Automobile Accident
– Up to 50 Units of Red Blood Cells
Organ Transplant Recipient– up to 40 units of RBC
– 30 of Platelet
– 25 of Plasma
Bone Marrow Transplant Recipient
– 20 of RBC
-120 of Platelets!
Cancer Patient
-Up to 8 units of Platelets every week!
Heart Surgery Patient
-6 of RBC
-6 of Platelets
Sickle Cell Anemia Patient
Up to 4 units of Red Blood Cells per treatment.
Whoa! Now you know Why blood donation is so important!
Related posts: