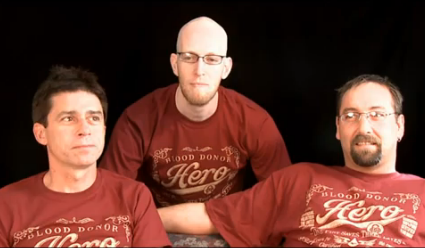 Making a difference is not as difficult as you think. Whoever you are, either you earn a five-figure or six-figure annually, you can be a hero. There's no need of spending a quarter of a million to help an orphanage ten blocks away from your home.
It is a known-fact that not everyone is born with a golden spoon. It is impossible for you to help an orphanage with three thousand kids aged one to ten unless you are the son or daughter of Donald Trump. It is not a joke to feed each one or donate toys to their liking.
For a person who earns an average annual income, donating blood is the best way to make a big difference. Blood donation is free of charge. It does not require you to rip money from your bank account. All it takes is an hour of your day.
In a news article published in KTVA site, Jeff Wheaton, Shon Dozark and Luke Hobbs or the Brothers of Blood as what they call themselves develop an unbreakable bond and they decided to save lives by donating blood components on an Easter Sunday.
It's fair to say this is not your typical Easter celebration. Usually, Easter Sundays are celebrated by attending a mass and by preparing tasty cuisines once you arrive home. The Brothers of Blood redefines the tradition. The trio use Facebook and word-of-mouth to circulate their good campaign.
In an interview, Wheaton openly admitted he and his two buddies are having fun while donating their blood. To them, being members of the union which they called as Trima System is their special way of giving back. In fact, Dozark has a daughter who underwent heart surgery at four and needed pints of blood at that time.
Blood plasma, a yellow component of blood, is an important ingredient in manufacturing medicines for Hepatitis B. So, donate now and get paid per pint. People with STD could be saved. Just make reservations first – plasma banks in different states.
Related posts: