Are you looking for more reliable information about blood or plasma donation online? These days not all "plasma donation" websites these days are credible. Search engines like Google, Yahoo!, or Bing return a list of website results but not many have what you're looking for
Fortunately you got to this article, which aims to compare and show contrast between two of most popular websites about plasma donation :
DonatingPlasma.org and  the BloodBanker.com
The Similarities
Both have contents about plasma donation. DonatingPlasma (dot) org is a pure informational site that educates the public about the facts and benefits of donating plasma. The site is funded by Plasma Protein Therapeutics Association and was created in 2007.
BloodBanker (dot) com /plasma is similar to DonatingPlasma (dot) org. It also contains helpful facts, instructional articles and informational videos about giving blood and plasma. Both sites have a page rank of 4 as of the writing.
The Differences
There are 6 sections to the DonatingPlasma.org website.
Need for Plasma tab contains basic information about plasma. This is an interesting read considering not all know what plasma is and how it is used to cure diseases.
Why Donate tab simply answers all your questions about plasma donation and medical processes like fractionation. This tab has sections that include the FAQ, the eligibility rules and a page that talks about the compensation you'll receive after plasmapheresis.
Find Donor Center is basically a search tool in which you can search a plasma bank according to city, state, zip code and distance.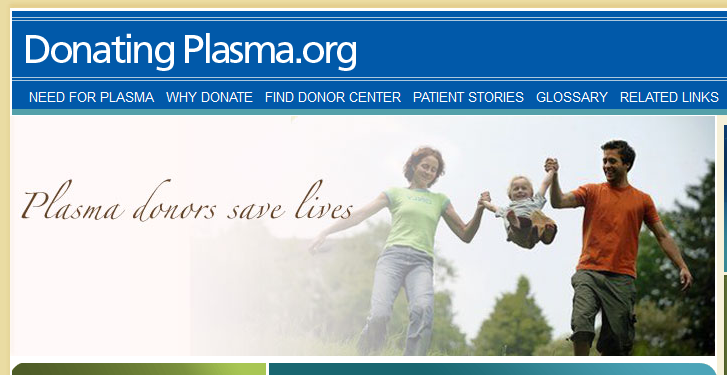 Patient Stories tab has all inspiring stories of people diagnosed with blood immunodeficiencies.
Glossary tab has all terms that are new and not understandable to readers. All terms and phrases in the section are mostly about blood and plasma therapies.
Related Links is the last tab that has a list accredited plasma center sites in the US, Europe and Canada.
The www.bloodbanker.com/plasma is a blog that contains articles and content related to plasma donation and all types of issues that surround it. The blog's homepage has a search tool and plasma-related videos.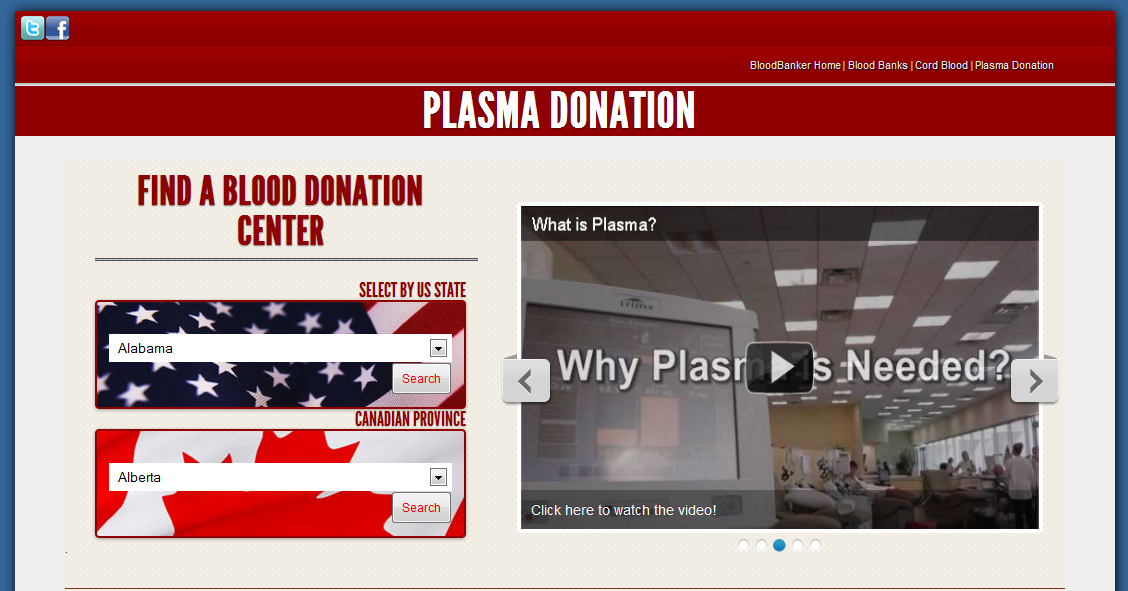 Before searching for a plasma center of your choice, you can choose to play the videos and increase your awareness about the importance of human plasma. The videos show the basics of donating plasma, the importance of blood donation, the reasons why you are donating and what can you do to stay healthy after donation.
The search tool is an easy-to-use online directory of plasma and blood banks in the US and Canada. Simply find your state and click "Search" and a list of centers in different cities will appear in front of you.
Below the search tools and videos are the blog entries and right side columns. The blog's welcome First is the "Recent Posts" which you'll see the titles of the latest articles (there are eight of them). These articles are written in high-quality. All these articles are fearless in delivering facts, statistics and point of views related to current events, controversy and news. To make it easier to find articles previously published months or years ago, take time exploring the "Archives" just below the Recent Posts.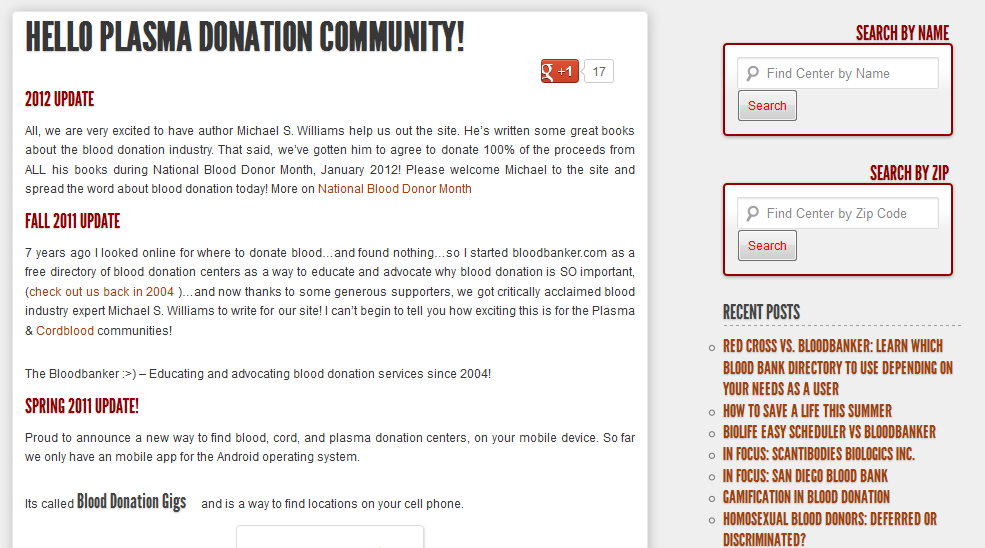 Scroll down the blog's homepage and you'll see a section in the sidebar that categorize all plasma centers according to state. The states are alphabetically arranged and what you're going to do is simply click on a state (e.g. Atlanta). After clicking, you'll be taken to a page that gives the exact information about the center (e.g. address, contact number, hours of operation, process of donation and the rate of compensation).
Which is better?
At first glance, you might have recognized that Donating Plasma (dot) com is entirely different from www.bloodbanker.com/plasma. The former is a website while the latter is a blog. However, the plasma blog offers more items of interest with the presence of the informational videos. There's also the search directory tool that allows anyone to search a plasma center without clicking several boxes. You simply need to select the state and click the search button.
Related posts: