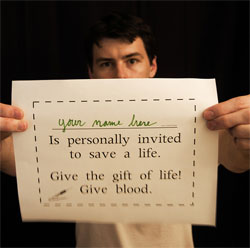 Click here to view large picture!
The World Blood Donor Day (WBDD) is celebrated every June 14th. It's a global campaign and there are over seventy countries around the world that give honor to the voluntary donors who choose to help other people by donating blood. These blood donors remain to be the commendable heroes of the present generation. They give life to the sick, they give hope to the victims of calamities and most importantly, they are inspirations to their families and friends.
Remembering the birth of Karl Landsteiner is the reason why the fourteenth day of June is selected as the World Blood Donor Day. Landsteiner (1868-1943) is an Austrian biologist and physician who developed the modern system of blood classification which is known as the ABO system. He also studied the mysteries behind blood transfusions. It was him who claimed that blood transfusion between persons of the same blood group leads to no destruction of blood cells (Wikipedia, 2012). Landsteiner is popularly recognized as the father of transfusion medicine due to this breakthrough.
"It is our hope that in designating one special day each year to celebrate the role of these blood donors in health care around the world, a new generation of blood donors will follow their example, thereby providing the safest blood possible for use wherever and whenever it is needed to save life." Dr. Neelam Dhingra said in an interview. She is the coordinator of World Health Organization (WHO) in blood transfusion safety and in Department of Essential Health Technologies.
Apart from World Health Organization (WHO), the WBDD has three other partners who endlessly give assistance to the needs of this eventful campaign, in which the primary host is Korean Red Cross in Seoul, Republic of Korea. These key partners are International Society of Blood Transfusion (ISBT), International Federation of Blood Donor Organizations (FIODS) and International Federation of Red Cross and Red Crescent Societies (IFRC).
The Goals
The WBDD breaks down its numerous objectives into two. Increasing awareness is the first objective. Donating blood is an act of altruism and it remains to be the only method of helping others even if you're not rich.
The second objective centers on gaining support from all authorities. The quality of blood services (in terms of organization, testing, delivery, etc.) will improve immensely when major institutions, not only in health but in politics as well, will continue to show sincere commitment in implementing new laws and policies.
Numerous plans are laid-out to achieve those goals. Conducting public campaigns is a priority. Campaigns are conducted to address common misconceptions about donating blood. By educating the public, more potential donors will come forward.
The professionalism of handling blood donors also matters. The retention rate of voluntary donors is high when staff and volunteers inside the center consistently show compassion and expertise. Voluntary blood donors are perceived to be the healthiest type of donors. They are more honest in answering questions during examination. The rate of deferral is low or oftentimes, none at all. Most importantly, they are the type of donors who have the lowest rate of transmissible infections such as HIV, Hepatitis and other blood diseases.
Creating broad partnerships with service organizations such as Red Cross, Red Crescent Societies, Lions Clubs, Rotary Clubs, public and private educational institutions can be helpful. These organizations provide increased opportunities for donation drives and mobile stations.
Click here to view large picture!
Here are other excellent ways to promote blood donation:
Through cultural activities
Banner Creation
Poster Making Contest
Essay or Slogan Writing Contest
Through media partnerships
Distribution of reading materials
Distribution of freebies such as T-shirts, pens, keychain, calendars, caps, stickers, bookmarks
Through sporting events
Friendly exhibition matches in basketball, tennis, badminton, baseball, golf, football or table tennis
Through social gatherings
Organizing a simple party to bring together long-serving donors
Organizing concerts for young donors (18-25 years old)
Conducting theater plays highlighting the importance of blood donation
Gather a team and start recruiting new donors
Through educational activities
Holding seminars
Giving lectures
Organize debates and quiz bees
By saying "Thank You" to donors
Send postcards
Send customize e-mail template
Giving balloons
Giving plaques of appreciation to regular donors
By calling them on the phone
By sending greeting cards
Stop the Apocalypse!
Blood shortages is everywhere. You might not feel it but it is happening all the time. Read the campaign kit released by the organizers of WBDD, which can be downloaded in this site, and it's confirmed that only 40% of donations are collected from developing countries each year. These developing countries such as Argentina, Bahrain, Kuwait, Serbia, Philippines, UAE, Thailand, Malaysia, etc. are home to more than 80% of world's population.
About 99% of 500,000 women (living in developing countries) died each year due to pregnancy, childbirth and haemorrhage. In Africa, children under the age of five are the primary victims of blood scarcity. Seventy-percent of the children in the country are in immediate need of blood transfusions due to severe anemia and malaria.
By simply participating in the donation drives, the coming apocalypse will be stopped. Your participation means a lot to the world.
June 11 – June 17, 2012: Blood Drive at Memorial Blood Centers
Address: Bloomington, Coon Rapids, Eden Prairie, Minneapolis (downtown), Plymouth, St. Paul, Woodbury
Contact #: 888-448-3253
June 14, 2012: Chukchansi Gold Resort & Casino Blood Drive
Address: 711 Lucky Lane Coarsegold, California
Time: 9 AM – 4 PM
Contact Person: Laura Geuvjehizian
Contact #: (559) 389-5433 Ext. 5445
June 14, 2012: James G. Parker, Insurance Associates-Fresno Blood Drive
Address: 1753 E. Fir Avenue, Fresno, California
Contact person: Rafael Cabrera
Contact #: (559) 389-5433 Ext. 5445
June 14, 2012: Farmers Market-Hanford
Address: Irwin & 7th Street (Irwin and 7th Street), California
Time: 5 – 8 PM
Contact person: Darla Silvera
Contact #: (559) 389-5433 Ext. 5445
June 14, 2012: Blood Drive at Bruceton Mills, WV
Address: Bruceton Fire Hall, Union Street
Time: 1 – 7 PM
Contact person: American Red Cross
Contact #: (304) 379-3171
June 14, 2012: Blood Drive at Assembly Room
Address: 300 West 27th St., Lumberton NC 28358
Time: 7:30 – 12 Noon & 2 – 6:30 PM
Contact person: Beth Ivey
Contact #: 671-5093
June 14, 2012: Blood Drive at University of Michigan Dental School – Sindecuse Atrium
Address: 1011 N University Ann Arbor, MI 48109
Time: 10:00 AM – 04:00 PM
Contact person: Amelia Tompkins
Contact #: 313-549-7039
June 14, 2012: Blood Drive at Gregory Community
Address: Gregory Memorial Auditorium Community Room Gregory, SD 57533
Time: 1:30 – 5:30 PM
Contact person: LiveServe Blood Center
Contact #: 800-287-4903
June 14, 2012: Blood Drive at Larwood Pharmacy
Address: 597 Oakwood Avenue East Aurora, NY 14052
Time: 2 – 6 PM
Contact person: Support Unyts
Contact #: (716) 853-6667
June 14, 2012: Blood Drive at DeGraff Hospital
Address: 445 Tremont Street, North Tonawanda, NY
Time: 11 AM – 4 PM
Contact person: Support Unyts
Contact #: (716) 853-6667
June 14, 2012: Blood Drive at Tonawanda Donation Center
Address: 1000 Union Road West Seneca, NY
Time: 10 AM – 8 PM
Contact person: Support Unyts
Contact #: (716) 853-6667
June 14, 2012: Indiana Fallen Officer Blood Drive
Address: 300 W. Tate Street, Lawrenceburg, IN
Time: 12:30 – 6:30 PM
Contact person: Katie Glahn
Contact #: (513) 558-1280
June 13 -14, 2012: DOD Federal Activities Philadelphia, 700 Robbins Avenue Platelets Drive
Address: Building 15 East Parking Lot by the Main Gate
Contact person: Tom Wilkie
Contact #: 215-737-3637
June 14, 2012: 13th Annual City-Wide Blood Drive
Address: Center Line Parks and Recreation Center at 25355 Lawrence
Time: 9:00 AM to 8:00 PM
Contact person: American Red Cross
Contact #: (586) 757-1610
June 14, 2012: Blood Drive at Rolling Acres Christian Reformed Church
Address: 340 20th Street S.W. in Mason City
Time: 3:30 to 6:30 PM
Contact person: David Wharton
Contact #: 641-424-1369
You can also read my book entitled Blood Shortage Apocalypse for more effective tips on how you can make a difference by becoming a blood bank volunteer inside the blood bank. I am going to show you how blood donation works, where you can donate and how to organize your own donation drive event.
REMEMBER FOLKS: "Every blood donor is a hero." – That's the theme of this year's World Blood Donor Day.
For every pint of blood you donate, only less than ten percent of your total blood volume is taken out. To be exact, that's 450 milliliters of the five liters of blood inside your body. It is expected for an adult body to replace its lost blood fluids within 36 hours. So, pause for a while and think about it – why not share a little part of you to others who need it?
Related posts: