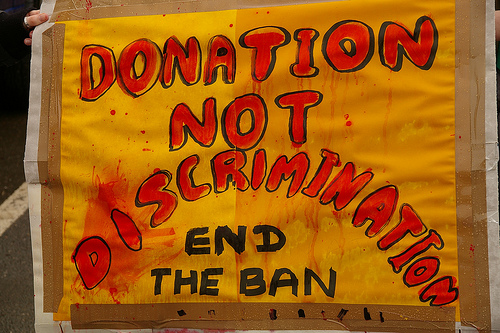 While this remains to be a debate everywhere, the goal of this article is to present the two sides of the issue. It's not the intention of the author to discriminate anyone.
Gary Gates works as a senior researcher in Williams Institute, an academic institution that supports LGBT in Los Angeles. In his research, Gates revealed a rough estimate of 19 million Americans who engaged in homosexual activities. This number includes all gay, bisexual and heterosexual respondents who have experimented or engaged in same-sex behavior (Huffingtonpost, April 2011).
In 2010, the National Survey of Sexual Health & Behavior (NSSHB) conducted a nationwide research on sexual behavior and practices with 6,000 respondents from ages 14 to 94. A part of the questionnaire asks about sexual preference, results showed there were 8% percent of men and 7% percent of women identified themselves either gay, lesbian or bisexual.
The same year, the Center for Disease Control and Prevention (CDC) conducted its own study which was participated in by  8,153  men. The results were alarming since nearly 1 in 5 gay and bisexual men in 21 major cities are diagnosed with HIV, a virus that may lead to full blown AIDS. Half of that number weren't even aware they have HIV (Reuters, September 2010).
MSM or men who have sex with men represent 2% of the US population. The American cities with the highest population of gay people are New York with over 250,000 – followed by Los Angeles and Chicago with over 100,000 each (Wikipedia, 2007). In 2006, nearly 46% of American-Caucasian were infected with HIV while over 52% belong to American-African community between ages of 13–29 years old. New HIV infections were also reported among the Hispanic/Latino group, 43% of which belong to 13-29 and the other 35% were 30-39.
In United Kingdom, about 8% of British men and 10% of women have at least one sexual contact with same sex in years 1999-2001. However, there's only 2.6% of either gender have same-sex partner in the last five years. The Department of Trade and Industry (DTI) came up with an estimate of 6% of the general population are identified as gay. Their records showed a consistent increase in the number of homosexual preferences (1,820 in 2001; 2,660 in 2005 and 2,790 in 2009).
Four fifths of the new gay population in UK were probably infected with HIV (AIDSMap, November 2011). The 83% were white ethnicity while one-third were born outside the country.
In Australia, 1.2% of adults are identified as homosexual or lesbian. The number of homosexual men (1.6%) is higher compared to 0.8% lesbian women while the 1.4% and 0.9% of women and men, respectively, were regarded as bisexual (Australian Research Centre in Sex, Health & Society, 2003).
Deferral Rules in Blood Donation
In United States: Male donors who have sexual contact with men (even once) since 1977 are indefinitely deferred to give blood. History of male-to-male sex is linked to increased risk of infectious disease such as HIV and hepatitis. The goal of Food & Drug Administration (FDA) is to protect all people from receiving a risk-exposed transfusions and other blood products. It's their first obligation to make sure the constant supply of blood remains safe (FDA Guidelines).
Procedures in highly sensitive blood testing greatly reduces HIV transmission. Over 20 million blood transfusions, red cell concentrates, plasma and platelets are screened each year. However, the current testing can't guarantee a hundred percent prevention of all transmission by transfusions. Those tiny number of infection can be missed within the window period.
In United Kingdom: Starting September 2011, men who have sex with men are allowed to give blood should they have no reports of any sexual contact with same sex within the last twelve months. This change of policy occurred after a study by Advisory Committee on the Safety of Blood, Tissues and Organs gave a conclusion that a permanent ban might breach equality legislation (UK Telegraph, April 2011).
The new regulations were approved and applied in England, Wales and Scotland. Welcoming the demise of lifetime ban is Carl Burnell. Burnell is the chief executive of gay men health charity who noted that there is a scientific basis for a year deferral. The blood supply remains safe within the period.
The Safety of Blood, Tissues and Organs (SaBTO) still reminds the public that MSM remains at a high risk for HIV and other blood borne diseases. It's possible to detect a HIV-positive blood with four weeks after exposure yet Hepatitis B, which is also a highly infectious virus that can result to chronic liver disease, stays undetectable for one year in some situations.
In Australia: Clive R. Seed, Phillip Kiely, Matthew Law and Anthony J. Keller conducted a research about the male-to-male sex as the cause of HIV transmission in the country. After a thorough investigation, the researchers found no evidence that the implementation of twelve-month deferral resulted in an increase risk for HIV.
Individual states in Australia has their own policies regarding MSM blood donation. The indefinite deferral was changed to 12-month deferral period between 1996-2000. For the reason donors remain dishonest about their medical history, there's a greater number of HIV-positive blood donations during the 12-month deferral period (Wiley, 2010).
The Two Sides of A Coin
Richard Benjamin is the chief medical officer of the American Red Cross and he's calling for a year deferral for MSM. The ARC along with American Association of Blood Banks (AABB) and America's Blood Centers (ABC) released a joint position addressed to the Blood Products Advisory Committee (BBPAC) of Food & Drug Administration (FDA). The joint position stated that the lifetime deferral for MSM is medically and scientifically unwarranted (American Red Cross, 2010).
"The way we look at it, our first obligation is to every patient, to provide you with the safest possible blood. Our second obligation is to treat donors fairly and equitably," Benjamin said.
Benjamin assures every donation received by ARC are screened for HIV. After collection, the tubes are sent to laboratory that same evening for a highly sensitive nucleic acid test, which was introduced in 1999. The test has the ability to detect HIV infections but only when the infection occurred in twelve days before the test. Benjamin explained that on average, infected people will test positive nine to eleven days after exposure.
A group of scientists will retest the blood if any case the initial result is reactive. The blood is still discarded even the second test result shows negative, and further testing is done to provide definitive information about the donor.
"Everything is tested. That's why; this policy makes no sense," Darlene Nipper said. Nipper is the deputy executive director of the National Gay and Lesbian Task Force.
Kali Lindsey is the public affair director of the nonprofit National Minority AIDS Council and he supported Nipper's sentiments. He admitted that he dislikes the idea of a year-long deferral period. With the effectiveness of testing procedures, Lindsey can't give his support to a policy that only aims to stigmatize a certain community.
The Food & Drug Administration (FDA) remains adamant. The term that is used in the policy is "lifetime deferral" and this is not only applicable to gay men. Anyone who has paid money and injected prohibited drugs in exchange of sex since 1977 are also not allowed to give blood.
Here's their statement:
"Even taking into account that 75 percent of HIV-infected men who have sex with men already know they are HIV-positive and would be unlikely to donate blood, the HIV prevalence in potential donors with history of male sex with males is 200 times higher than first-time blood donors and 2,000 times higher than repeat blood donors."
James Small is the director of anatomic pathology at Porter Adventist Hospital. To him, the policy mandated by FDA is an effective way of removing HIV-tainted blood in the circulation.
"The demand from the general public for completely safe blood products is insatiable. It's not a pro- or anti-gay issue." He said.
Related posts: