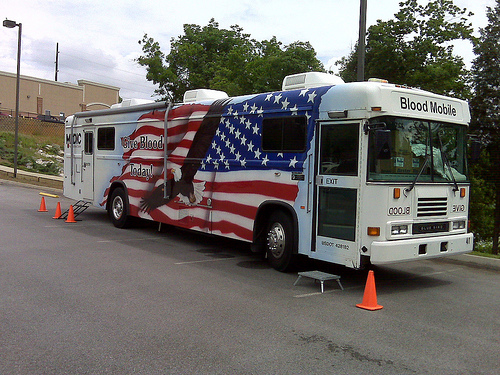 What is a bloodmobile
A bloodmobile is a self-contained donor clinic on wheels. It is usually as big as a bus that is equipped with collection stations where you can donate blood in a comfortable environment. All bloodmobiles are only allowed to operate should they pass the regulations created by Food & Drug Administration (FDA).
How a bloodmobile looks like
An ideal size of a bloodmobile is 33′ long and 12′ high. Its exterior is embellished with colorful paints and excerpts to attract attention. Inside, all areas – may it be for registration, for refreshments or for collection – should be open and inviting. The entire area must be air-conditioned and odorless. The registration area must have two tables of six-foot in size with four chairs in each. One is for the registrar and the other one is reserved for the donors (for examination). Close to the registration table is an outlet for computer and a printer.
The refreshment area should have a long table and chairs. All snacks and drinks are served here. Another important area of a bloodmobile is the rest room. Rest rooms should regularly be cleaned to avoid the spread of infection. For safety, there must be a separate rest room for males and females too.
New-released mobiles have an entertainment area. It's helpful to have a TV set in the collection station. Donors will not get bored during the procedure.
Why organize a bloodmobile
Reason #1: It's easy to organize. It only requires minimum effort.
Organizing a bloodmobile requires smaller area compared to a donation drive. Only a small budget is needed to improve the exterior and interior areas.
Reason #2: Bloodmobiles can be scheduled to avoid unnecessary breaks in work.
Bloodmobiles can collect more blood units. It can arrive in two to three establishments in one day.
Reason #3: More donors can easily be motivated.
Bloodmobile is parked outside the office. There's no need for qualified donors to travel just to give blood.
When to organize a bloodmobile
Christmas – Any statistics can prove that the blood supply in Yuletide season is declining. Many people are in shopping malls while some are in vacation.
World Blood Donor Day (WBDD) – WBDD is celebrated every June 14th. More than seventy countries give honor to all voluntary donors who give blood for altruistic reasons. The 2012 WBDD will take place in Seoul, Korea.
Easter Sunday – This day marks the resurrection of Christ. It's miles better to celebrate it by giving a pint of blood to save three lives.
Birthday – Convincing people to donate blood makes your birthday extra special.
How to organize a bloodmobile at work
Begin the entire process by working with a local blood bank, which owns a mobile.
It's important to thoroughly examine the entire area months before the donation day. Then, it's time to gather your team and start setting goals.
Confirm the participation of all potential donors. Inform these potential donors about the schedule and motivate them by giving tips on how to prepare before the donation day.
If the budget allows it, distribute posters or campaign flyers. To make the invitation more personal, send a customize template via their email addresses or invite them through Facebook Event.
On donation day, arrive at the site early. The ideal parking space for bloodmobile should have no tight corners and narrow spaces. The space has to be near the building but steps away from any doorways and windows to avoid disruption. A bloodmobile is operated by diesel generator.
Prepare all the necessary equipment. Have a checklist and examine every little detail (the pen and papers in registration, the collection materials, the donation chairs, the waste baskets, the comfort room, the refreshments, the souvenirs, etc). The goal is to make every area as clean and as inviting as it should be.
Acknowledge their presence the moment the donors start to gather outside the mobile. Let them feel comfortable by directing them to the registration area.
Remind each donor about the real purpose of blood donation. Inform them that anyone can give blood at least three times each year.
References:
http://www.blood.ca/
http://www.bloodmobile.com/
Related posts: