What is Biomat USA?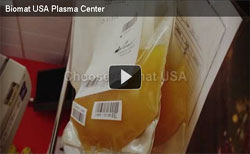 Biomat is a part of Global Grifols family of companies since 2002. It's one of the leading suppliers of life-saving products made of human plasma. The Biomat has a network of FDA-licensed plasma centers in the United States.
How it operates?
The collected plasma shall undergo a rigorous testing to guarantee its quality. All testing facilities used by Biomat are approved by Food and Drug Administration (FDA) every two years. This procedure is routinely done to ensure the quality assurance and safety of each product. After the initial testing, the plasma was sent to another laboratory for further screening before it is manufactured into plasma derived therapies.
The donors at Biomat USA are expected to follow the strict rules made by the company. They go a series of physical examinations. The series of voluntary industry standards that is known as International Quality Plasma Program (IQPP) must also be followed for each visit.
To ensure the overall quality of plasma before it is further tested – only plasma from repeat donors are used for plasma derived products. Biomat feels confident that the repeat donors are consistently healthy. Their profile histories show no signs of malignant diseases in the past or in the present. There's also a minimum of sixty days to confirm the safety measures of the plasma.
Right now, Biomat USA has 64 centers in 24 states. To search for Biomat USA Centers in the country, go to BloodBanker
Related posts: