Allogeneic blood donation, also known as whole blood donation is the most common process of donating blood. This requires a visit to a blood center, passing thorough eligibility screenings and sitting on a reclining chair for a phlebotomist to perform a venipuncture on your arm.
As blood flows from the arm to the bl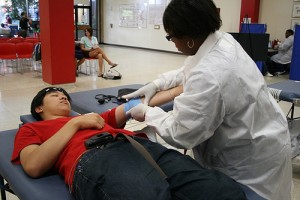 ood bag which is then further processed for other types of transfusion (plasma, platelet and and whole blood).
When you look at it, getting allogeneic blood donations is simple, just a few papers to fill out and then allow them to draw your blood. Yet, each year the country doesn't have enough supply on stand-by. People needing regular transfusions increase by the year and trauma cases can't be predicted, barely having an ample supply is a scenario we don't want to see.
Every two years, the US Department of Health and Human Services (DHHS) funds and gathers data with the help of American Association of Blood Banks (AABB). The resulting report is called the National Blood Collection and Utilization Survey Report. For this article, we focus on the total number of collected units of blood in allogeneic blood donation that is measured and that the data supply is not met.
The survey questionnaire is distributed to a number of blood centers. From their donation data, it can be derived how much transfusions were collected and the number given from the supply. From the years 1989 – 2008, the data of blood supply came from AABB's three organizations: Blood Centers of America, America's Blood Centers and American Red Cross. The purpose for the data is to keep close monitor on the nation's blood supply on a daily basis for AABB Inter-organizational Task Force on Disasters and on a weekly basis for DHHS.
The table below shows the close number of units collected and the number of units transfused. The number of units increase about a million every year as with the need for transfusions. In this set of data, it would be easy not to see blood donation as an URGENT need. According to the table, all transfusions have been served. 
| | | |
| --- | --- | --- |
| Year | Collected Units | Transfused Units |
| 1989 | 13.6 million | More than 11.5 million |
| 1997 | Less than 12.5 million | More than 11 million |
| 1999 | 13.2 million | 12 million |
| 2001 | More than 14.5 million | 14 million |
| 2004 | More than 15 million | More than 14 million |
| 2008 | 16.9 million | 15 million |
In this next table from DHHS report, it shows how a blood shortage can affect lives.
| | | | | |
| --- | --- | --- | --- | --- |
| Year | % Hospitals with Cancellation of 1 Day | Range of Days | Median Number of Days | Number of Patients Affected |
| 1997 | 8.6 | 1- 21 | 2 | Not determined |
| 1999 | 7.4 | 1-150 | 2 | 568 |
| 2001 | 12.7 | 1-63 | 2 | 952 |
| 2004 | 8.4 | 1-39 | 2 | 546 |
| 2006 | 6.9 | 1-120 | 3 | 412 (721 weighted data) |
| 2008 | 4.4 | 1-100 | 2 | 151 (325 weighted data) |
A delay in blood transfusion lead to complications for: those who regularly need it; those who are scheduled to have it and for those who immediately need it. Though not mentioned in the report, things do go wrong when the body's blood supply needs replenishing and there is no match or supply available.
In the NBCUS reports until 2008, AABB organizations were also asked to identify the number of scheduled surgeries didn't push through because of a lack in blood supply. Though relatively lower than the past years, a regular supply of blood products save the patient's life, lessen the cost of hospital bills and a higher success in curing the patient.
Personal thoughts of a blood donation advocate:
People donate blood altruistically, since they know what it means for patients who need it. US blood supply has so far been provided by only 37% of the American population who have been donating blood. I was baffled and moved by the data that I ended up making an infographic on blood supply shortage.
A vigilant look into the blood supply in United States shows that it is rarely in abundance. My question now is: Is anyone prepared to step up and change the odds to our favor?
Source:
2009 National Blood Collection and Utilization Survey Report – PDF
http://www.aabb.org/programs/biovigilance/nbcus/Pages/default.aspx
Related posts: