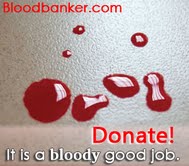 Summer is the time of the year that a lot of people like and wait for. For the American Red Cross though, summer is a period of anxiety. The humanitarian organization confirmed that there's an alarming dip in blood supply – the lowest level in 15 years.
The heat wave is one of the most probable reasons why blood scarcity is at its peak during these summer months. Based on a report released by National Oceanic and Atmospheric Administration (NOAA), there are more than 40,000 daily heat records have broken in the first five months of 2012 (Huffingtonpost, July 2012) and this type of condition forced various potential donors to stay at home to keep cool.
In some areas, extreme weather that cause thunderstorms are also expected in the month of July and most states in the south (Florida, South Carolina, Alabama and Georgia) will experience frequent lightning, blasts of winds and blinding downpour (AccuWeather, July 2012). The weather change has kept people indoors and out of danger from it. For this; the ARC is left with no choice but to cancel its blood drives and bloodmobiles. The dip this year may also have been caused by less blood drives being hosted. Most schools are closed in the summer months and without those generous students, the  blood supply instantly goes down. Students can be the most active donors when persuaded to. Most of them are idealistic and have less trappings or excuses to not do something for the community.  Youngsters eligible to donate are often about doing good and most choose to show genuine concern by donating blood.
All blood types are in need these days; unfortunately, the American Red Cross couldn't meet the required quota of 17,000 pints due to a decrease of 50,000 this June 2012.
Type O negative is considered to be the universal type; though there are specific cities in the country that has more demands in O positive. There are also patients in 3,000 hospitals who need blood transfusions, especially the A negative and B negative.
Richard Benjamin is the ARC chief medical officer and he openly expresses his sentiments in the website.
"There is always the chance that a physician could postpone an elective surgery if the needed blood products aren't readily available. In a worst case scenario, a physician may have to forego performing a more serious procedure for a patient because of a shortage of blood. We need to do everything we can to make sure it doesn't get to that point."
For this, a number of local leaders need to work hand-in-hand to to survive the crisis. April Oppliger is one of them. Oppliger is a communication program manager in Red Cross Mid-America Blood Services Division and in order for her organization to meet the needs of hospitals and patients around the area, she needs more donors to participate in every nationwide blood drive. The emergency drives started late in June and will go on until August 31, by then the supply is also expected to grow should these drives endlessly hand freebies to their regular donors.
* * *
Various branches of American Red Cross are found in this directory and if you're looking for other blood centers in your area, please use this directory instead.
Sources:
PekinTimes
The Leader
USATodayEducate
USA Today
HuffingtonPost
NPTelegraph
Related posts: