The human blood is a special component of life. It gives life to over 7 billion people in the world. For some reasons, not everyone finds time to understand what it's made of.
Our blood contains chemicals and if you're going to a laboratory to examine a drop of your blood under a microscope – you'll realize that each has its own type and function. Each chemical needs the others to keep your body fit and healthy. An imbalance of these chemicals will result terrible sickness .
Which is why doctors always advice to choose carefully what you eat and what you drink. Even your chosen lifestyle determines the range of chemicals you have in your body. If you choose to live a carefree life without monitoring your everyday diet then your body is more susceptible to disease or sickness. To clearly explain to you what the importance of blood chemicals, the table below shows the major type of chemicals and its primary function in the body:
6 Important Chemicals in Human Blood
Types
Function

MBL (Mannose-binding lectin)

Transportation of important molecules

Neutralize digestive system

Enzymes

For early diagnosis and treatment of liver and heart problems

Sugars

Provide nutrients for the body

Lipids
Minerals

Provide nutrients for the body Source of energy

Vitamins

Essential for normal growth and development

Vitamins A, D and E are fat soluble vitamins and can be stored in the body

Vitamins B and C are water soluble which is why it can't be stored in the body if unabsorbed
The list above is just a short list of the major chemicals; a year ago scientists identified 4,229 blood chemicals in the human body. A biochemist, David Wishart, from University of Alberta said that doctors need to examine these different chemicals to accurately treat a health problem (news.ualberta.ca., February 2011). The chemicals serve as a guideline to the body's health. The doctors' recommendation is dependent is on what they see on your test result.
Once we understand the importance of blood chemistry in our bodies, we would have an easier time keeping fit. While it's not the scope of the article to detail the formation of a blood cell, let me give you a brief idea on how a transformation begins.
Simply imagine that your body generates all its red blood cells, platelets and 60% of its white blood cells inside a bone marrow. The lymphatic tissues that are found in your thymus, spleen and lymph nodes generate lymphocytes, which contains 20-30% of white blood cells (WBC). Your bone marrow generates red blood cells (RBC) every week and its rate of formation depends on your system's ability to produce cells. The platelets are the cellular fragments that are from a giant cytoplasm of the bone marrow (Britannica.com).
In figures, your body averages a production of 200,000,000,000 red cells per day, 10,000,000,000 white cells per day, and 400,000,000,000 platelets each day. (Britannica.com). In the matrix below, you'll have a clear idea on how each components functions and what range in values are normal. Most of the time, the level of your blood chemistry is considered normal once your result belongs inside this range.
Blood Chemistry Components
Function
Normal Value
Blood Urea Nitrogen (BUN)

Essential for the function of kidneys

2.9-8.9 mmol/L (International)

Carbon Dioxide (CO2)

Essential for the function of kidneys and lungs

24-30 mmol/L (International)

Creatinine

Essential for normal muscle breakdown

Men: 0.2-0.5 mg/dl (USA) 15-40 umol/L (International)

Women: 0.3-0.9mg/dl (USA) 25-70 umol/L (International)

Glucose

Essential for the source of energy

3.9-5.6 mmol/L (International)

Serum Chloride (Cl)

Essential for the maintenance of blood pH

100-106 mmol/L (International)

Serum Potassium (K)

Essential for muscle contraction and cell functioning

3.5-5 mmol/L (International)

Serum Sodium (Na)

Essential for kidney function

3.5-5 mmol/L (International)
There are also compound chemicals that we all know; carbohydrates are one of the important chemical compounds in your body that acts as the energy reserve. Your body remains active throughout the day and needs food with carbohydrates to convert into energy. Carbohydrates in the body from food rice, pasta and bread are utilized when our bodies are in movement. Carbohydrates stored and unused in the body will often convert into sugar that when not used as a source of energy or if you're not that active the sugar then converts into fat. 
In the world of health science, scientists have already discovered that there's a significant relationship between the human blood and carbohydrates. The major blood types of humans are blood types O, A, B and AB, for every blood type there is a specific amount of carbohydrate chain. These carbohydrates are in a chain of four essential sugars. See the diagram below:
O
A
B
AB
N acetyl-galactosamine (C8H15NO6)
None
1
None
1 on the left
N acetyl-glucosamine(C8H15NO6)
1
1
1
2 (1 on both sides)
Fucose (C6H12O5)
1
1
1
2 (1 on both sides)
Galactose (C6H12O6)
2
2
3
5 (2 on the left, 3 on the right) those types of carbohydrate on the left.
To simply understand the data above, we'll define what types of carbohydrates these are.
N acetyl-galactosamine is an amino sugar that is labeled as the "terminal carbohydrate" that forms antigen in A type (Wikipedia, ABO Blood System). The term that is used is terminal because it's located at the uppermost of a carbohydrate chain. Scientists say that this type of sugar is obtained from galactose, which is also a part of the chain around a red blood cell. The main uses of N acetyl-galactosamine is to communicate with other cells intercellular-ly. It means this sugar helps in perceiving and responding.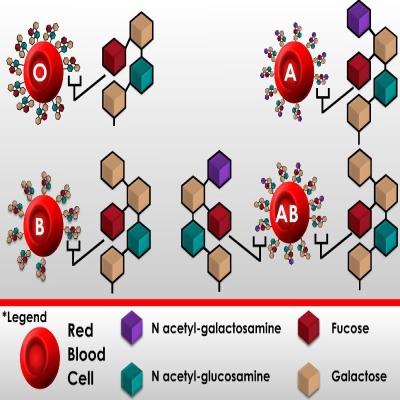 N acetyl-glucosamine is a simple type of sugar that is produced by glucose. It's one of the eight essential sugars in your body that acts as a neurotransmitter in the pathway. Another name for N acetyl-glucosamine is GiaNAc. This is a natural and good carbohydrate that is found to help with cartilage and mucous lining repair, aids in digestion and intestinal activity and boosts the immune system of the body   . 
Fucose is also one of those eight essential sugars responsible for the framework of A and B antigens. Fucose also eliminates diseases in your immune system, plays an important role in reproduction (testes) and maintain hydration in the skin. The term is often confused with Fructose. The former is an essential sugar inside your human body while the latter is also a sugar (the exact term is monosaccharide) that is mainly found in fruits.
Lastly there is galactose. This type of protein-free sugar belongs to a family of lactose, sucrose and fructose that is responsible for lactation, secretion and metabolism. Your body also needs an antigen-filled galactose to determine your exact blood type.
As a conclusion, your blood is the reason why you live. You might only see the red fluid on a wound yet a closer look at the facts makes you realize that a single drop of blood contains of the most important chemicals.
Sources:
Glyconutrition for Life
Osumex
Galactose.org
Wikipedia – Galactose
WiseGeek – Blood Chemistry
E-How – Blood Chemical Analysis
Blood Chemistry on UA
Blood Index: Minerals
Related posts: