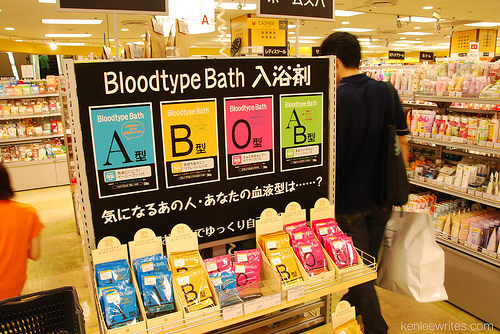 In the orient, people are now considering their blood type even when choosing basic things like bath salts.
Bath salts are an age old tradition for everyone in the world, in the US there are several homemade Epsom salt baths that include herbs and other anti-oxidants. No matter where you're from this is a body health product in fine grain made from different ingredients, colors and scent.
In Japan, Bloodtype Bath salts are specialized versions of homemade bath salts. As the name suggests, the bath salt pack is used when you're going to have a full-body bath. Since each product is specially made for a blood type, you have to make sure that you only use the bath salt that matches your blood type- you won't miss it, the blood type is printed on the front (O, A, B, AB) of the package. 
The bath salt is an herbal product and it contains a number of ingredients that protects your skin from all types of rashes and infections. It makes your skin look smoother and healthier.
| | | | |
| --- | --- | --- | --- |
| | Personality Match | Ingredients | Benefits |
| Bath Salt for Type O (Warrior) | Realistic, Ambitious, Optimistic, Outgoing, Expressive, Passionate, Athletic | Minerals, Tocopherol, Shea Butter, Hydrolyzed Silk, Sea Salt, Wild Rose Extract | Exceptional Skin Healing properties |
| Bath Salt for Type A (Farmer) | Kind, Hospitable, Creative, Responsible, Sensitive, Reserved | Minerals, Zostera, Collagen, Hydrolysate, Sea Salt, Tocopherol, Shea Butter, Marina, Sodium Hyaluronate | Exceptional Skin Healing properties, Moisturizer |
| Bath Salt for Type B (Hunter) | Optimistic, Passionate, Wild, Active, Friendly | Minerals, Sea salt, Shea Butter, Royal Jelly Extract, Tocopherol | Cell and Tissue Regeneration, Skin Renewal |
| Bath Salt for Type AB (Humanist) | Calm, Rational, Sociable, Adaptable, Efficient | Minerals, Sea salt, Sodium Hyaluronate, Shea Butter, Royal Jelly Extract, Tocopherol | Healing properties, Moisturizer, Vitamin A, Vitamin E |
This bath salt product comes from Japan – a country that is obsessed with the relationship between blood types and human personality. It's believed that with the use of bath salt, there is an improvement in your overall well-being. One of its primary goals is to help you feel fresh and revitalized inside and out, especially if you're feeling all types of stress after work.
In a Japanese news TV channel they demonstrated how soothing the scent of the bath salt has. One precaution though for people who are rhinitis prone, consult your doctor first about the fragrant bath salts. Some allergic reactions are triggered by smell, to be on the safe side, doctor's advice should be asked.
Blood type bath salts are a natural way to relax after a long hard day at the office or after a sweaty workout at the gym (or whatever exercise you have for your blood type).

Source:
Lazy Lagoon by Jessica Korteman
Bath Salt for Type O on Alibaba
Bath Salt for Type A on Alibaba
Bath Salt for Type B on Alibaba
Bath Salt for Type AB on Alibaba
Bath Salt Benefits
Related posts: