This Baxter Biolife Plasma Donation Center is located just off the southwest corner of the Penn State University Campus in State College, Pennsylvania. Its truely a student, teacher and faculties dream program since it is practically on the campus. Located just north on rt. 26 (Beaver Ave) of the corner with rt. 322 (Atherton St.) @ Cresson Ave.
Location:
321 West Beaver Ave.
State College, PA 16801
(814) 237-5761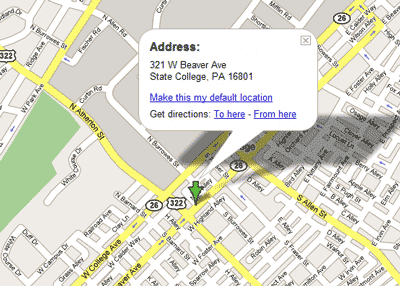 Operating Hours:
Monday 7:30am – 6:30pm
Tuesday 6:00am – 6:30pm
Wednesday 6:00am – 6:30pm
Thursday 6:00am – 6:30pm
Friday 7:30am – 5:30pm
Saturday 8:00am – 4:00pm
Sunday Closed
Plasma Center Promotions:
Call us today to find out how you can receive extra money and join in special center events just for our donors!
Payment:
So they pay you $20 for the first visit during a week, and then $30 for the 2nd time during the same week (they do this to encourage you to come more often, and health wise, its perfectly fine to do this as long as you aren't sick. DO NOT donate blood, plasma, or any fluids if you are even starting to feel under the weather, I did this once and got a fever of 104!) ALSO this is big, I just spoke with them and for the month of Oct. they are giving you $40 for the 2nd visit! Biolife also said that they might extend this promotion through the end of the year, so heads up! Make some extra money with these cats, it easy, fun, and the right thing to do.
Related posts: