Everywhere in the world, blood shortage is a crisis. The infographic below simply gives you the three main reasons why our country is experiencing a shortage in blood supply. This is the crisis that can't be stopped unless eight million potential donors are willing to donate three times each year.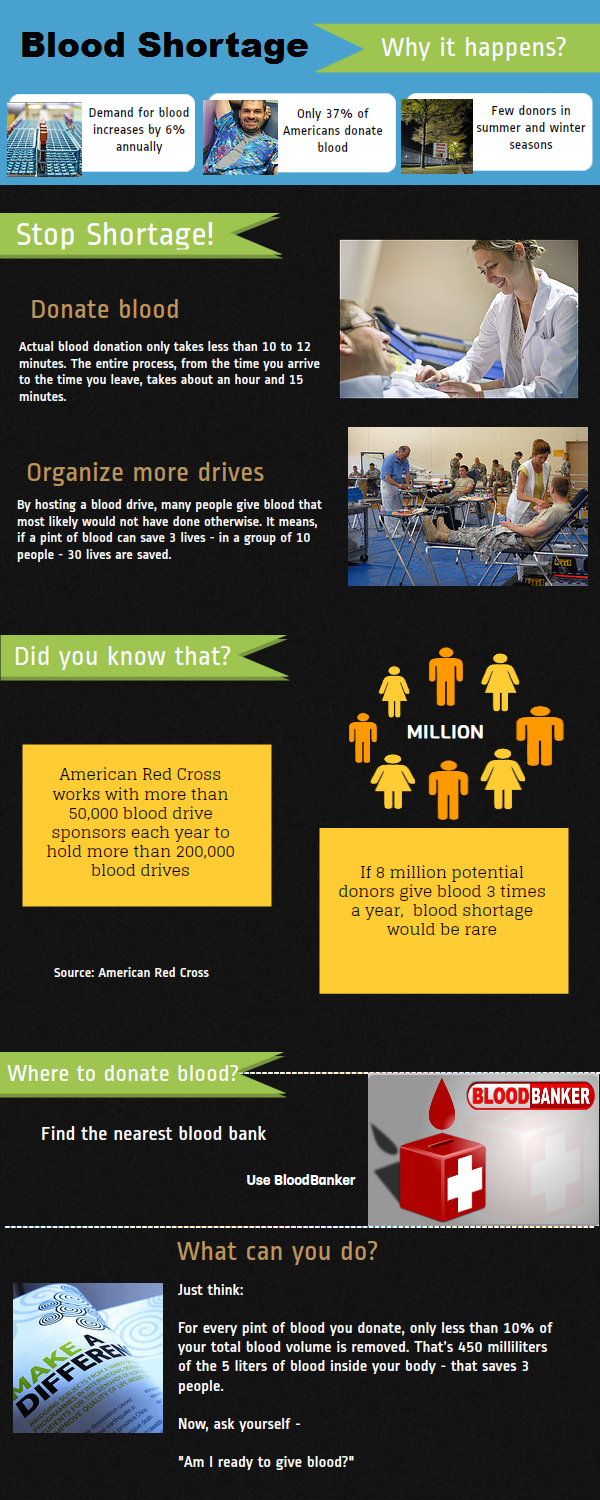 Only 37% of Americans donate blood and based on a current data released by American Red Cross, this is an alarming percentage should you consider the current population of the country. The current population stands at over 300 million and about 67% of this number belong to a group of 15-64.
In 2011, more than 9 million Americans are not allowed to donate blood due to their sexual orientations. Blood centers reel at the thought that there are 9 million potential donors that they have to defer due to safety policies. Aside from the deferred donors, there are a high percentage of potential donors who live their lives not donating a single drop. Blood supply needs gets higher each year as more and more people are in need and will be needing blood to survive.
Dr. Bernadine Healy, the president of American Red Cross, openly admits in an interview that the hospitals around the cities of Los Angeles, Baltimore, Detroit, St. Louis and Philadelphia demand for more supply. The supply at hand is insufficient to meet the increase need for complex surgeries (organ transplant, heart surgery, chemotherapy, etc.).A major life saving operation like a liver transplant requires 120 units of donated blood on standby for the organ to function properly and not get rejected by the patient.
Surprisingly, statistics released in 2010 by Nicola Lacetera an assistant professor at the Rotman School of Management of the university of Toronto whose research interest also involves pro-social behavior. Did a study on human behavior and the motivation it takes to make pro-social decisions, like donating blood. He noted that 38% of Americans were eligible blood donors but only 8% are donating. It was also found out that many of the first-time donors don't come back to donate again. In trying to answer the long-standing question: how to motivate and encourage more blood donors, he found out that a high record of volunteering  and donating are higher in times or emergencies or disasters.
We are talking about the same need for donors the difference is the level of urgency for that need. Lacetera goes on to share ""There is a general perception that you need blood for emergencies or an organ transplant. Most of the blood needed every day is for chronic conditions, such as for cancer patients. Therefore, blood is needed every day," Lacetera said." The realization that blood is indeed needed every day has to sink in before blood supplies are down to a critical level.
Volunteer groups and blood drives have applied marketing and motivational skills to events in order to establish a regular flow of return-donors. Blood donation has been gamified to attract all potential donors and get them coming back. More than just cookies and milk, organizers invest in button pins, colorful pressure bandages, rewards are things blood donations centers use in the hopes of getting people to donate regularly.
Your help is the solution!
Most people often think that great things are always done in great numbers. What they fail to see is it all starts with one person. Donate blood and spread the word, the next thing you know you are bringing friends over to donate too.  Keep in mind, it takes but one pebble to create ripples in the water- go to the nearest blood center and give a pint. Encouraging more people to donate blood or organize blood drives is an effort geared to to stop this scarcity.
* For conducting an event, have a partnership with any blood center listed in this directory.
Source:
American Red Cross: Blood Facts & Statistics
Wikipedia: Demographics of the United States
The Daily Athenaeum: Discriminatory Practices Cause Blood Shortage
Related posts: