BloodBanker is seeking and supporting creative projects that need funding to get into production and be introduced into a larger market. With the help of Kickstarter.com, the world's largest funding platform for creative projects, BloodBanker gets to help promising and potentially great projects from the world's brilliant minds through funding and pledges. Check out other projects we've funded here.
One of the projects that BloodBanker has funded is Educational colorimeter kit, a project by IO Rodeo which is an open source company that designs scientific instruments for life science research and education.
What is a Colorimeter?
A Colorimeter is a device used in colorimetry that measures how the color is absorbed by a substance or object. This light-sensitive instrument is commonly used in science laboratories to measure the concentration of a solution from its light absorbing properties.
The Educational Colorimeter Kit
This Educational Colorimeter Kit is created by Will Dickson, Cisco Zabala and Joanne Long of the IO Rodeo. They purposefully designed this to be a kit rather than a pre-assembled device. No soldering is needed anymore because the electronics are already assembled. This is ideal to be used in classroom activities because it takes only 20-40 minutes to assemble and the step-by-step assembly instructions are written on the colorimeter user manual.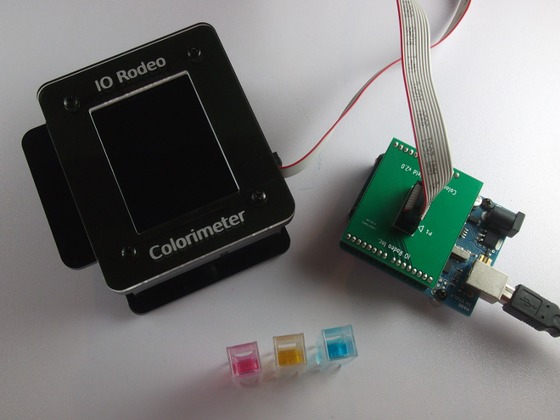 This educational colorimeter project includes hardware designs, electronic designs, arduino firmware, and user-friendly software tools for data collection and analysis.
The colorimeter hardware is made up of laser cut acrylic. Other design features include a cuvette holder for standard lab cuvettes and a sliding lid cover.
IO Rodeo wanted to turn this working prototype into an affordable classroom kit so that more students can access this improvised device. This is also designed for educators and DIY scientists alike.
But a project as ambitious and helpful as this needs sufficient funding to be manufactured. That is why they came to Kickstarter community to ask for financial support from backers to help them reach $8000. Thankfully, 129 generous people backed up this project and they were able to raise $10,000 pledge.
On behalf of IO Rodeo, we would like to thank the backers who supported Educational Colorimeter Kit. Students, educators and up and coming scientists will surely find an easier and more convenient way to help them with their lab work.
Related posts: