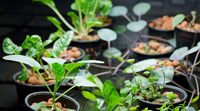 BloodBanker is seeking and supporting creative projects that need funding to get into production and be introduced into a larger market. With the help of Kickstarter.com, the world's largest funding platform for creative projects, BloodBanker gets to help promising and potentially great projects from the world's brilliant minds through fundings and pledges.  Check out other projects we've funded here.
Bitponics is one of the many projects that BloodBanker has funded. It is a device made to help plant lovers grow their hydroponic garden the smart way. Many people find it hard to grow house plants or food plants in their homes because of limitations like space and time resources. If you are one of these people, (the time to rejoice is here!) this is what Bitponics is all about.
What is Bitponics?
Simply put, Bitponics is your personal gardening assistant. This brilliant project was founded by Amit Kumar and Michael Doherty, two Californians who grew up working home gardens and missed plants when they moved to the urban city, New York. Their main goal was to make it easy for everyone to grow their own food in urban spaces with a little support and technology.
Bitponics is designed to help you in growing your plants by simplifying and automating your growing process. People who decide to grow their garden using Hyrdoponics will find this device and online tool useful. Hydroponics is a technique in growing plants with water – no soil is needed.
All you need are 3 things: your hydroponics system, the Bitponics sensor device and it's online account. To get started, you would have to register for an account and enter details such as plant names or variety and the type of hydroponic system you have. Next, the Bitponics sensor device is attached to environmental sensors and power outlets for lights and pumps. With the use of a cloud-based web service the device enables you to manage your garden, visualize and study sensor data, control lights and pumps while sharing your growing experiences with other members of the Bitponics community.
You can make a growing plan for yourself or you can let Bitponics create one for you. The growing plan is the step-by-step process on how to take care of your plants. It will tell you information about how many hours of light your plant needs every day, when to change the lighting schedule, the safe pH range for your plants, how often to run your water pumps, what balance of nutrients to use for each growing stage and when to replace your nutrient solution.
Why Bitponics is relevant to society?
Today, it is very rare for anyone to grow plants and eat fresh food in urban places, but hydroponics has helped urban farmers in this problem. Hydroponics allows us to grow plants using mineral nutrient solutions, and does not require soil, so it's ideal to apply this method especially in areas like rooftops or apartments. One disadvantage of hydroponic gardening is its relatively steep learning curve. But with Bitponics, hydroponic gardening is made easier because it is accessible to everyone, whether you are an experienced gardener or not.
Bitponics is a wonderful resource for schools, too. Students will have insights into the environmental factors that support plant growth. When Bitponics will be introduced to campuses across the country, it will give kids wider knowledge about growing plants, photosynthesis and the different wavelengths of light! The good thing is, Bitponics has already discussed partnerships with organizations like Boswyck Farms and Dekalb Market Farm so they can bring Bitponics to the educational environments as soon as the system's ready.
UPDATE: Bitponics has successfully reached its funding goal and as promised in their Kickstarter page, the team plans to deliver the first batch of devices and have the software beta ready in September.
Related posts: